Introduction to Moodle
If this is your first time using Moodle, we encourage you to review this brief tutorial to learn about the course web, how to login and access your CS classes; and other relevant resources.
2. How To Login
A Moodle account is automatically created for you when you enroll in a CS course. Please note, however, that it may take at least 24 hours for any enrollment changes to be updated on Moodle.
The URL for the CS Moodle web site is:
https://courses.cs.westga.edu
You may wish to bookmark it since you will be visiting it frequently.
The login box is displayed in the top left-hand corner of the Moodle home page, as shown in the screenshot: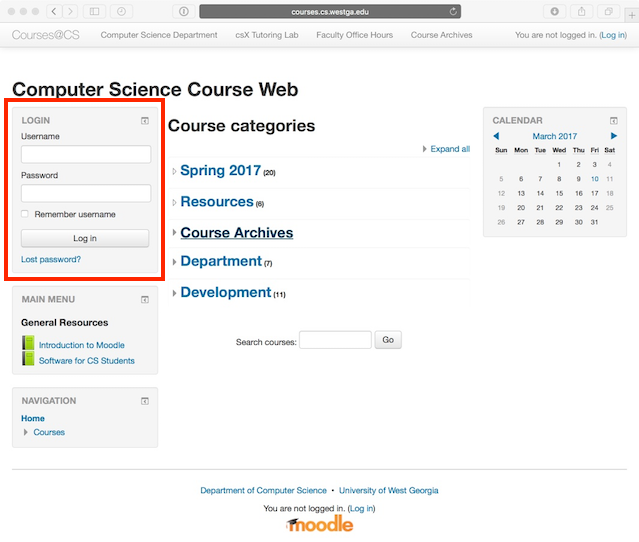 Your account information is as follows:
Your Moodle user name is the same as your myUWG user name (e.g., jdoe1). If you are not sure of your myUWG username, you can look it up here.
If you have never logged in to Moodle before or you have forgotten your password, you will need to use the "forgotten/lost password?" link to reset/establish your Moodle password. An email will then be sent to your myUWG email with a link to reset the password. Please note that your Moodle password is for Moodle only - it is not synchronized with any other system (i.e., you could have different passwords for myUWG and Moodle, for example).
If you have problems logging in AND have allowed at least 24 hours for any enrollment changes to be updated, please email Edwin Rudolph. Please make sure you clearly describe your problem, and include your name and student ID number (917#).
In many cases, you can also access courses as a "guest" user (anonymous). Although you will not be able to participate in the course, you may be able to see some of the basic course materials (syllabus, assignments, etc.). This can be useful if you are waiting for your enrollment in a class to be updated.