Print book
Introduction to Moodle
| | |
| --- | --- |
| Printed by: | |
| Date: | Monday, October 2, 2023, 11:49 AM |
Description
If this is your first time using Moodle, we encourage you to review this brief tutorial to learn about the course web, how to login and access your CS classes; and other relevant resources.
1. What is Moodle for?
The purpose of this tutorial is to introduce students taking Computer Science (CS) major classes to Moodle (also known as the CS course web), the course management system used and managed by the Department of Computer Science.
NOTE: If you are looking for information regarding CS 1000, 1020, 1030, or 1300, please look for your class on CourseDen. These classes do not use Moodle.
Each Computer Science (CS) course you take will have a course page on Moodle. The course page is the central "hub" for the course. Your professor will post the class syllabus and a variety of other information and resources on this page. You may also use this page to submit assignments, take quizzes/exams, ask questions and participate in discussions, etc. (these activities will vary depending on each course).
In addition to Moodle, you may also utilize other tools and resources as part of a course such as:
Email (always use your UWG provided email account and plan to check it regularly)
csX Live! (to seek help/assistance from lab assistants via live chat, see the section in this guide for more information)
Google Hangouts (some CS faculty may offer online office hours through Hangouts)
various other Internet/cloud-based applications/services
Keep in mind that
Moodle will always be the central location for important information about each course.
2. How To Login
You will automatically have access to Moodle, using your UWG ID account via OneLogin, when you enroll in a CS course (CS 1301 and above) for the current or upcoming semester. Please note, it may take up to 1 hour from the time you register for a CS class on Banweb before you can login to Moodle.
The URL for the CS Moodle web site is:
https://courses.cs.westga.edu
You may wish to bookmark it since you will be visiting it frequently. To login, click the "Login" link in the top right corner:

You will be directed to UWG's OneLogin portal if you are not already authenticated.
Alternatively, you can access Moodle from your UWG OneLogin portal by clicking on the "CS Moodle" tile (if it doesn't show up initially, you can type "moodle" in the search box):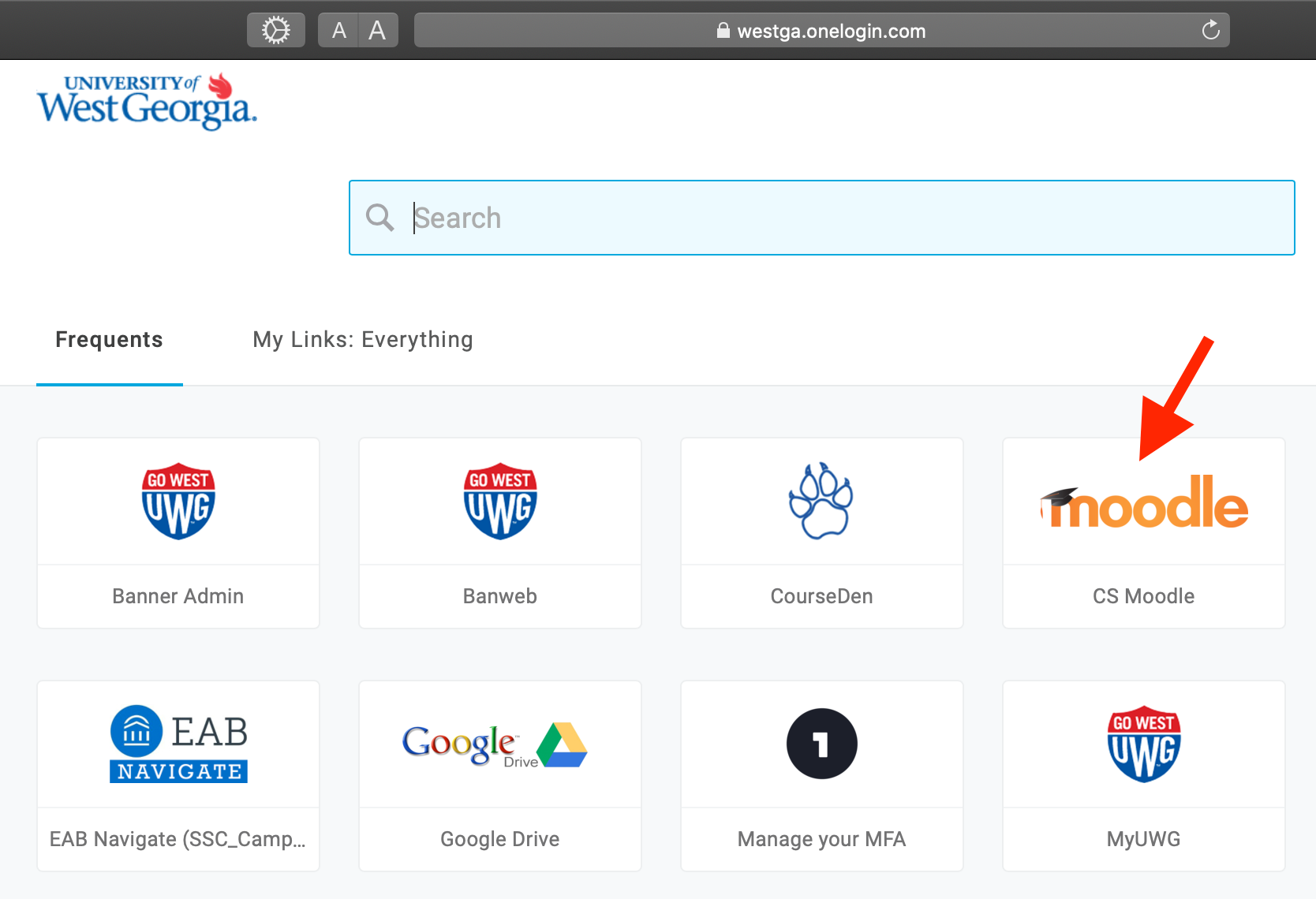 If you have problems accessing Moodle AND have allowed at least 1 hour after registering for a CS course on Banweb, please email csmoodle@westga.edu. Please make sure you clearly describe your problem, and include your name and student ID number (917#).

3. Your Current Courses
Once you login, you will see your current list of courses on the Moodle home page. Please remember, if you have recently added or dropped a class, it may take up to 1 hour for that change to be reflected on Moodle. Your Moodle home page will look similar to the screenshot below: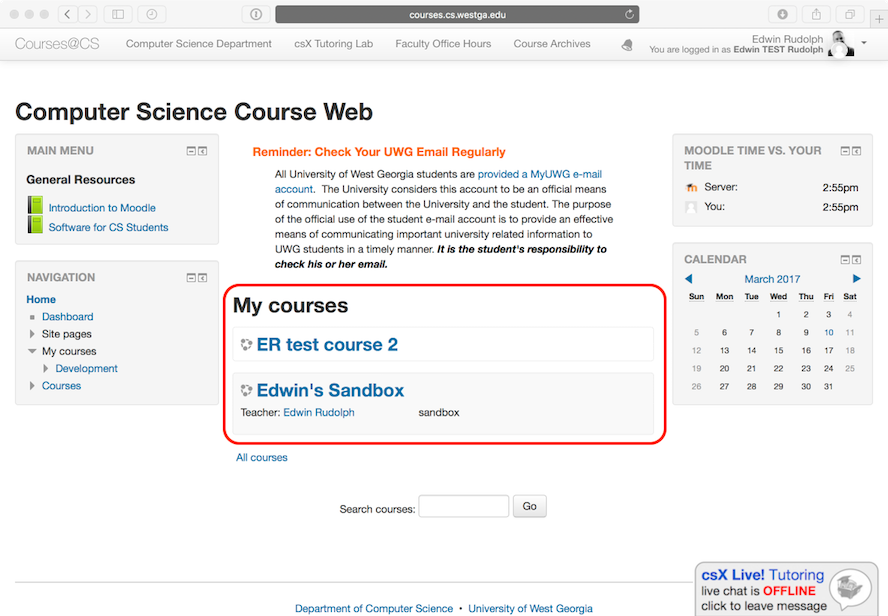 If you are not seeing one or more courses that you know you are currently registered for AND have allowed at least 1 hour for any enrollment changes to be updated, please email Edwin Rudolph. Please make sure you describe your problem and include your name and student ID number (917#).
Please note, class web sites for courses in a future semester (i.e., a semester that has not yet begun) may not be available on Moodle until the first official day of classes for that semester - regardless of whether or not you have already registered for the class(es).
3.1. Special Pages for CS Majors
If you are a current Computer Science major (undergraduate or graduate), you will see a couple additional "courses" listed. These are resources maintained by the Department of Computer Science in order to provide relevant and timely information to our majors.
If you are a CS major, we encourage you to visit these pages from time to time for important information.
All CS Students
This page will be listed for all majors, undergraduate as well as graduate. It is used to distribute information relevant to both groups. For example, the department forward announcements of job opportunities from various employers using the announcement forum in this course.


CS Undergraduate Portal
All undergraduate CS majors are added to this course, and the department uses it to distribute information that is specifically relevant to undergraduates.


CS Graduate Portal
All online CS graduate students are added to this course, and the department uses it to distribute information that is specifically relevant to graduate students.
The announcement forums in these courses are configured to automatically send email copies of postings to all course members.
4. Update Your Moodle Profile
Like other online services, your user account on Moodle includes a profile. The profile includes your name, UWG email address, contact information, and a picture. This profile is viewable only by other students and faculty/staff who login to Moodle. Anonymous browsers who do not login and/or search engines cannot see user profiles on Moodle.
Once you are logged in to Moodle, you can view your profile by clicking on your name in the upper right-hand corner of the page (reference notation #1 in the screen capture). Then, from the drop-down menu, click Profile (reference notation #2 in the screen capture). Then, click "Edit profile" under the User details block (reference notation #3 in the screen capture).
Once you are finished making changes, be sure to click the "Update profile" button at the bottom of the page to save your edits.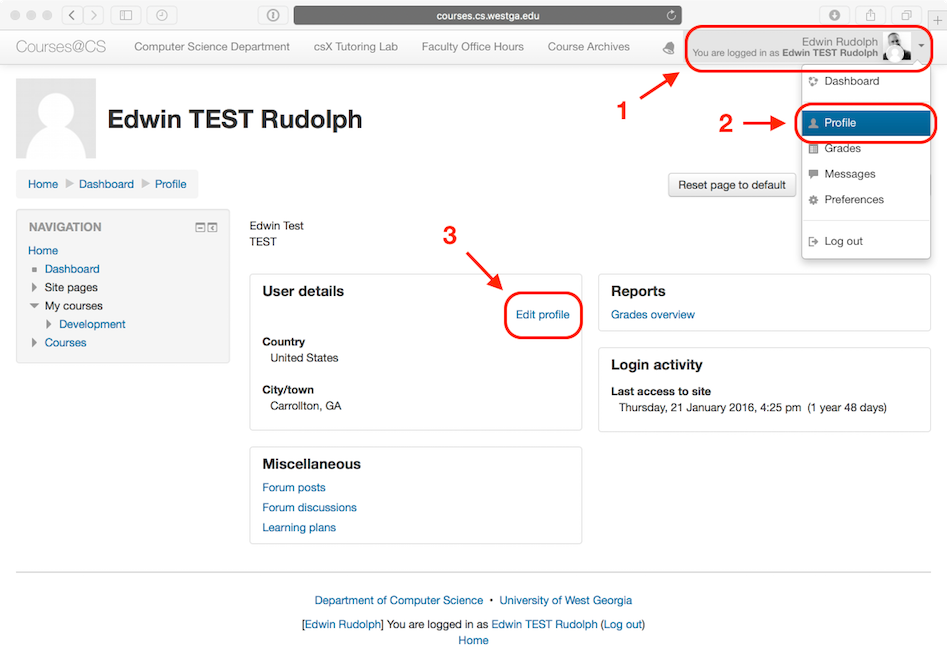 At a minimum, you should update the following fields in your profile:
Picture

Please select a relatively square-sized picture that primarily features your face (and that is professional & appropriate!). This picture will appear in various locations on Moodle where your name is displayed (e.g., forum discussions, class participant listings).
Alternate Name
Moodle uses your first and last name as listed in the University's official records on BanWeb. These cannot be changed; however, if you normally go by a different name than your first name, you may enter an "alternate name" in Moodle. This alternate name, should you enter one, will be displayed by Moodle in some places (but not all) in parentheses after your first name.
Other Fields
You may update some of the other profile fields if you wish; for example you may provide additional contact info such as phone number, address, and IM accounts (you may need to click the "Show Advanced" button to see all available profile fields). However, you are not obligated to include any information in these fields.
5. Subscribe to Calendar (optional)
If you use a calendaring application that is capable of subscribing to a iCalendar feed (e.g., Apple Calendar, Microsoft Outlook, Google Calendar), you can subscribe to your personal Moodle calendar and have course-related events automatically added to your calendar. This would include things like assignment and quiz due dates, for example.
To get your personal subscription URL:
Go to the Moodle calendar (you can also access this link by going to the Moodle home page and clicking on the month and year in the Calendar block on the right-hand side of the page).
Click the "Export calendar" button at the bottom of the page.
Select your desired options (you will probably want "All events" for "Recent and next 60 days").
Click the "Get calendar URL" button.
Copy and paste the complete URL (see example, copy starting from the http until the end of the line) into your calendar application.
6. Moodle Mobile App (optional)
If you have an iOS (iPhone, iPad) or Android phone/tablet mobile device, Moodle provides a mobile-friendly theme that allows for accessing the site in a useful way using the web browser installed on modern iOS and Android devices. In addition, you can install the official Moodle Mobile app and use it to interact with the CS Moodle course web. The Moodle Mobile app currently provides ability to view resources on a Moodle site, get notifications from the site (e.g., forum announcements, etc.), and some limited capability for interaction.
To learn more and find out how to install the app, visit the Moodle Mobile site for details.
Once you install the app and it prompts you for the site address, you will need to enter "courses.cs.westga.edu" and then provide the username and password you normally use to login to the CS course web.